ROBINSON Islands Energy Forum
15 October 2020 @ 9:00 am

-

12:30 pm
The first ROBINSON Islands Energy Forum takes place on Thursday, 15 October 2020 from 9 am till 12.30 pm CEST.
Programme of the day:
9:00 – 10:30        Welcome and introduction to the Forum
ROBINSON – Smart integRation Of local energy sources and innovative storage for flexiBle, secure and cost efficIent eNergy Supply ON industrialized islands – Ugo Simeoni, Research & Innovation Manager, ETN
Clean Energy for EU Islands initiative – Jeppe Mikel Jensen, Coordinator, Clean Energy for EU Islands secretariat
NESOI – New Energy Solutions Optimised for Islands – Alessandra Montanelli, Sinloc Spa
10:30 -10:45       Coffee Break
10:45 – 12:00      Panel discussion: An integrated approach to decarbonise islands
Chaired by Mark Walker, Senior Research Fellow, Environmental Research Institute – UHI
Eigerøy's strategy towards the decarbonisation –  Rolf Andre Leidland, Project Leader, Eigersund Næring og Havn KF
Comhairle nan Eilean Siar's Sustainable Energy Action Plan – Donnie MacMillan, Plant Manager, Western Isles IWM Facility, Isle of Lewis, & Anne Murray, Strategy Officer, Comhairle nan Eilean Siar
Towards a sustainable and decarbonised Crete – Maria Apostolaki, Environmental Engineer, Region of Crete
Discussion – Challenges and barriers to be overcome to decarbonise islands
12:00 – 12:30      Conclusion and next step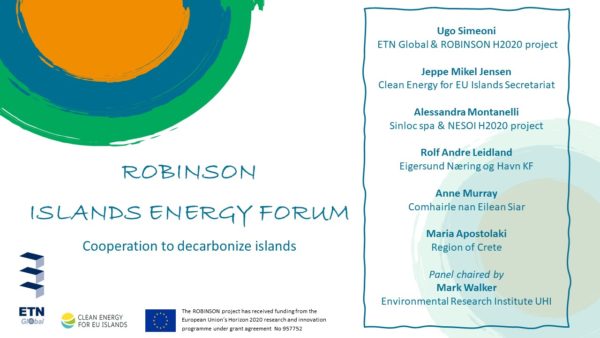 About ROBINSON
ROBINSON's main mission is to develop an integrated energy system to help decarbonise islands with industrial activities. The system, which will be demonstrated on the island of Eigerøy, Norway, couples locally available energy sources, electrical and thermal networks and innovative storage technologies, using hydrogen as energy carrier. In order to achieve the target, innovative technologies will be developed, integrated on the island and managed by a novel Energy Management System (EMS) that will include non-electrical resources such as biomass gasification, wastewater valorisation and industrial symbiosis. More information on ROBINSON available on the CORDIS portal by the European Commission.
The ROBINSON project has received funding from the European Union's Horizon 2020 research and innovation programme under grant agreement No 957752